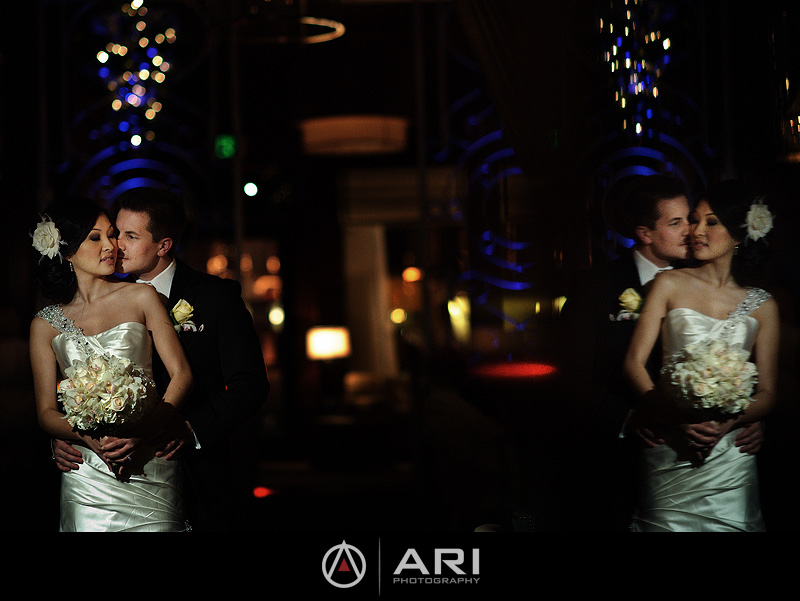 From engagement photos to bridal portraits to the wedding ceremony and reception, your Los Angeles wedding photographer can help you find great locations for indoor and outdoor photo sessions.  Traditional wedding photography is beautiful but tends to be stiff and posed rather than relaxed and natural.  Modern wedding photography often takes a more photojournalistic approach to your relationship and wedding day.  Through the pictures, the artist uses a camera to tell a story.  The shots are usually more candid and natural, capturing intimate moments and subtle glances that tell a thousand words in one frame.
Stunning ocean views, beaches, landmarks, urban spaces, and historic sites are all options for your Los Angeles wedding photographer to work some magic.  The pictures should showcase who you are as a couple and reveal your personalities while presenting you in your most beautiful light.  More artistic photographers will work to get unusual angles and find unique setting that frame the photo well.  It's best to decide on the type of look you want your photos to have before selecting a photographer because many professionals specialize in a specific type of photography.
When choosing your Los Angeles wedding photographer, you should always ask a lot of questions.  If the photographer is not willing to listen and respect your wishes, move on.  Working with a person who doesn't listen isn't worth the stress on your special day.  Also, peruse their past work.  Ask about locations and lighting.  Be sure to notice what the photos look like that have been taken in similar locations to those you will be in.  Check references with previous couples that used the photographer.  Getting the right photographer is one of the most important decisions you will make.  The wedding day will go by so fast that it becomes a blur.  The right photographer freezes moments and emotions in time so you can remember all of those priceless experiences later.
From the Walt Disney Concert Hall to the University of Southern California, to the white sandy beaches and lush gardens in the area, there are tons of picturesque locations for engagement pics, portraiture, and wedding photography.  Some couples like to revisit places that are sentimental or were instrumental in bringing them together.  Many go back to the first place they met, the location of the first date, or where they got engaged.    The photo albums become a photographic love story of their relationship.  The wedding is a celebration that is the start of a new chapter rather than the finale.
Thank you for visiting Los Angeles, Santa Barbara, San Luis Obispo, San Francisco Wedding Pictures | Wedding website | Contact Ari. 209.981.9820